Want to change your life?

To get started you must make a decision to change

I can help you make that change - It's up to you
If you find yourself wondering if you're good enough, don't worry. I have helped hundreds of people over the last 20 years overcome debilitating fears, phobias, emotions, doubts, fear of flying and so much more.
I've got a proven method for tackling any problem head on with confidence and success!

If you are motivated to change your habits and behaviours and want to find out how I can help you, then please call 086-8776935 to schedule a short Zoom or phone call call to discuss how you can benefit from my unique approach, using mindfulness-based strategies to create the change you want.

Stop Feeling Helpless, Start Creating Your Life

My therapeutic approach incorporates Cognitive Behavioral Therapy (CBT), NLP techniques, Gestalt Therapy and Hypnotherapy for fast-paced results that have been proven effective with lots of clients just like you!
Are You Feeling Stuck In Your Life?
I am a qualified psychotherapist, specialising in the treatment of anxiety, depression and life transitions. With my guidance you can feel confident instead of helpless which will help you find your way to the life that is waiting for you!
Is there a better way to live your life?
Let's talk about how we can make that happen.
Will It Work For You?
As a Qualified Psychotherapist (MA) with over 20 years of experience in the field. The methods I use have helped thousands of people all over the world lead healthier, happier lives with better understanding of themselves. I use Cognitive Behavioural Therapy (CBT) which has proven effective in helping many people conquer their mental health challenges such as depression and anxiety disorders. CBT can also help with weight management problems like binge eating or compulsive overeating.

Contact me today on 0868-776935 for more information about how we can get started on your journey towards happiness and the life you want! You will not regret it! :)
Transformation is both Rapid and Powerful
I understand the challenges of managing life's transitions, from college to career, from high school to adulthood. I can help you navigate your way through these changes while empowering you to take charge of your life and live your best life! Transformation can happen quickly - but it also happens powerfully when you work together with someone who knows what they're doing.
Transformative coaching sessions generally last up to 2 hours over the course of one two hour session. You'll create new ways of thinking and behaving so you can live a happy, fulfilling life without anything holding you back!
I will show you how to live a life without limitations.
You'll learn how to overcome any obstacle that stands in your way, and create the life you've always wanted for yourself.
My transformational sessions are designed to help people find their true selves and accept themselves for who they are, so they can live without fear of failure or rejection.
I understand what it is like to be an ordinary person trying to make it in this world.
My mission is to help others do the same through my work with self-confidence, self-acceptance and personal development coaching.
So if you want to change the direction of your life give me a call
My Newly Published Book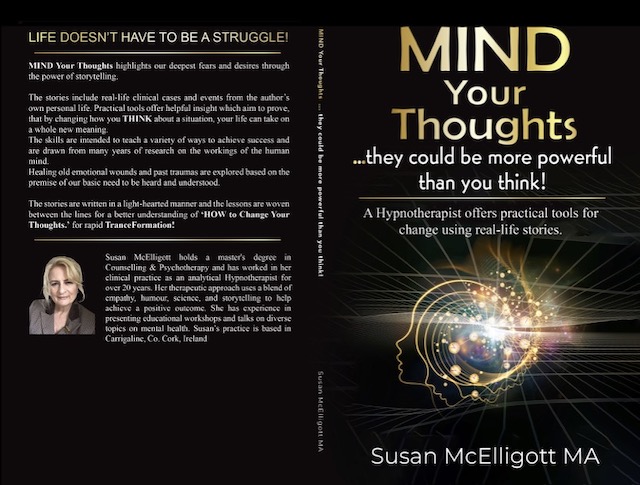 "Mind Your Thoughts" is a collection of short stories showcasing how even our darkest emotions can be overcome. The book was created based on the universal laws of physics, 'where focus goes, energy flows.' and the main focus is on creating a lighter vibrational frequency to rise above emotional suffering. I aim to prove the efficacy of hypnosis when used in a clinical setting and how it can harness the power of the subconscious mind to reprogram your thoughts.
Combining various forms of psychotherapy and cutting-edge mind-mastery tools.
I demonstrate it is possible to become unstuck, rewire your thoughts and experience complete contentment. The content of the book is designed as a teaching tool for both the professional and anyone on a journey of personal or professional development. It covers challenges such as; anxiety, depression, anger, grief, gaslighting, guilt, shame, abuse, end-of-life-caregiving. The message is one of hope and resilience.
Location
Contact Susan McElligott - 16 Hillcrest, Carrigaline