This Is YOUR Time – This is your chance to join me, Susan McElligott, one on one at my office in Carrigaline and crush the limitations that you've put on yourself or that the world has tried to use against you.
NOW is your time to achieve the goals you desire most and take control of your life in 2022, and way beyond.
There's only one decision that stands between you and the future you desire.
Make that decision now and call me on 086-8776935 for a life-changing experience so you can take this next year by storm!
I can help you with these Issues:


Anxiety, panic attacks and stress
Depression, low mood, loneliness
Relationships and Breakups
Bereavement
Self Esteem
Lack of Confidence
Redundancy
Navigating Life Transitions
Anger Management
Shame and Guilt
Overcoming Phobias
Eating Disorders
Listen to my Two Recent Podcasts
I Discuss My Book "Mind Your Thoughts"
and "How I Approach My Work With Clients"
Problem Sleeping?
My Newly Published Book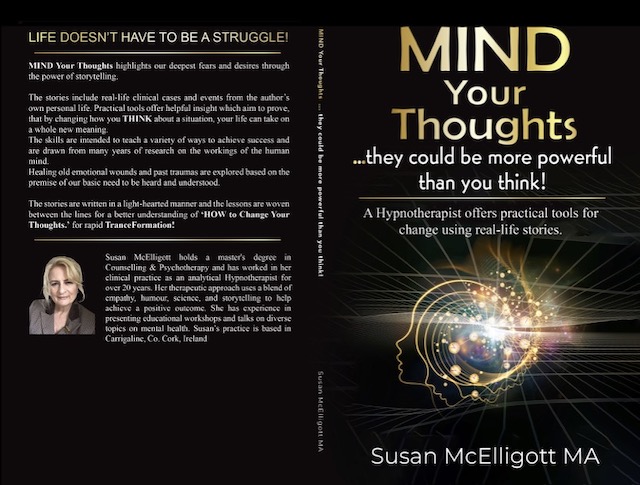 Location
Contact Susan McElligott - 16 Hillcrest, Carrigaline